Looking for some underrated sites to shop for graphic tees? Look no further.
If you don't have graphic tees in your wardrobe, you're missing out. Graphic tees are a wardrobe staple because they go with practically any outfit. They're my favorite way to dress down a fancy skirt for a lowkey dinner or to throw over a pair of biker shorts when I'm doing a grocery run. 
They are also one of the most versatile items you can have in your wardrobe. You can do a variety of stylish looks from tying them up into a crop top, layering them with a long sleeve shirt, or pairing them with some jeans and a blazer. They're the best way to add a little personality to your wardrobe and they're comfortable AF. Truly the whole package. In short, because they are so awesome and I simply can't get enough, I've put together a list of 6 underrated sites to shop for graphic tees. Check it out below.
Quick tip before we get into it: When shopping for graphic tees, always make sure to check the men's section, where applicable. Sometimes the men's section has better shirts than the women's (typical) and I personally prefer the fit of a men's shirt over a women's. However, a lot of places offer unisex tees, so just keep an eye out. 
Disclaimer #1: The tees you see below were picked by myself as my personal faves on each site at the time of writing this article. Depending on when you view this, these tees listed could potentially have limited or no stock. Look at each site for specific details and if something is out of stock, check out the rest of their awesome products because I'm sure you'll find something else you'll like. 
Founded in 2013, FemFetti has made a large name for themselves in the apparel, accessories, and home industry by offering beautifully designed products that are sure to make your soul feel empowered. They are graphic tee experts and offer items for various relatable moods (remember what I said about having a little personality in your wardrobe? Yeah, this is where that comes in to play). And, as if they couldn't get any better, FemFetti uses eco-friendly ink and their illustrations/lettering are hand-drawn by their in-house design team. To sum it up, this site embodies my entire mood wrapped in one. Please, just take all of my money! 
Support Your Local Dive Bar Tee 
Not Your Average Babe is not your average shop. They offer spooky products that contain the perfect amount of cute and creepy, ALL YEAR ROUND. It truly is my heaven. If you know me, you know I'm obsessed with Halloween and all things weird/creepy/whatever, so the fact that this shop is open throughout the year and offers the CUTEST graphic tees is a Halloween fanatics dream come true. Where my witches at?!
Haunted House Babe Long Sleeve Tee 
 Kaeraz is one of the best sites that offers feminine centric tees for whatever mood you want to embody. The brand has a ton of different "shops" that offer various t-shirt themes, including Desert Darling, Girl Gang, and my personal favorite, Witchy Lady. Kaeraz is the perfect place for badass women to shop for some badass graphic tees. It doesn't get much better than this. PS, they also offer the CUTEST home and accessory items too. Seriously, check it out (I'm drooling as we speak). 
Created on the hope to pay homage to the legacy of t-shirts, The Bee & The Fox has a beautiful story of empowerment and authenticity behind the brand. I recommend reading the whole story here. When you shop at The Bee & The Fox, you can tell that love is a top "ingredient" throughout their tees, which is something really unique to find in a brand nowadays. There are so many awesome tees to search through, it will be impossible to buy just one.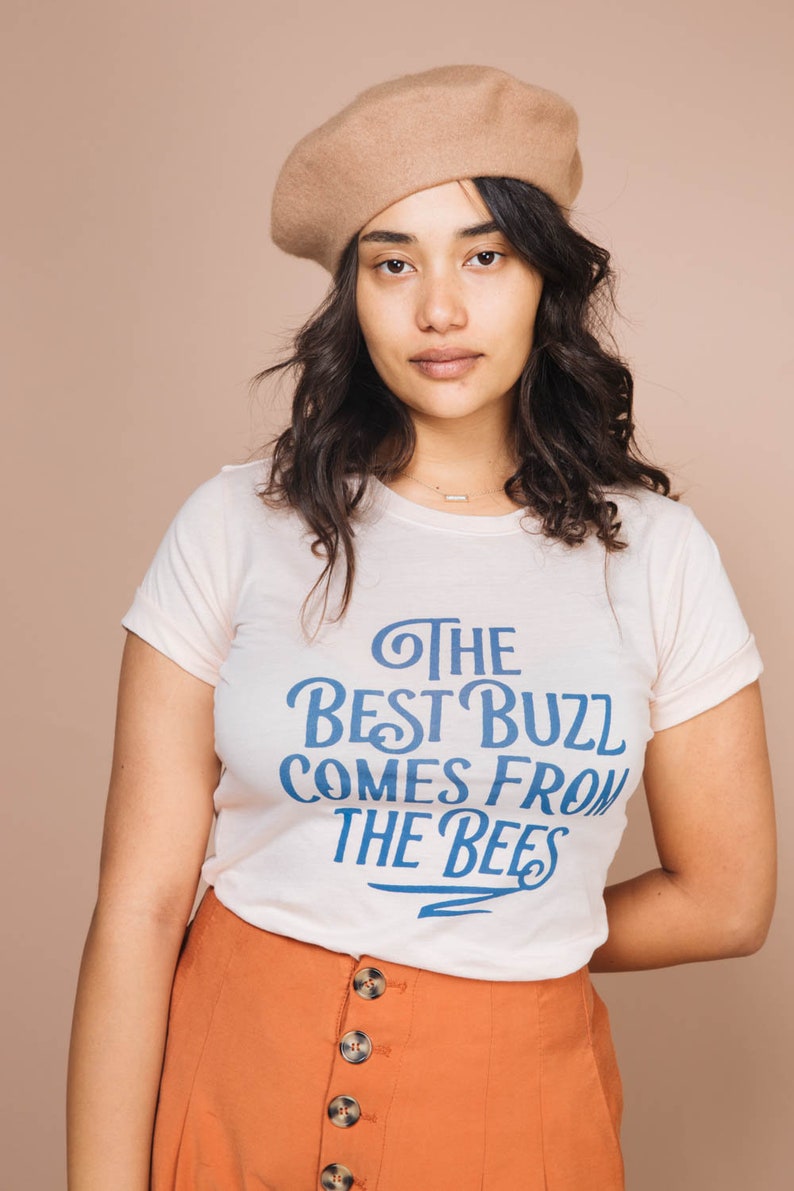 The Best Buzz Comes From The Bees Fitted Crewneck 
I Like Cacti But I Ain't No Prick Scoop Neck 
Steven Rhodes' graphic tees are some of the most creative, quirky, and nostalgic feeling tees in the game. His graphic tees are created as a result of reimagining children's activity books from the '70s and '80s, with a touch of dark humor (yessss!).  You won't find t-shirts like these anywhere else, they are truly extraordinary. And he offers his shirts in a variety of colors, so you can choose what best fits your style. Brb, ordering the entire site right now. 
I hope you enjoyed me ranting and raving about these amazing companies and the awesome products they have! Leave a comment below with which ones are your favorite or share me your favorites sites to shop graphic tees here.